NoXster Social Media Optimization
"B2B marketers are spending millions of dollars annually on social-marketing programs, though nearly 30% are not tracking the impact of social-media programs on lead generation and sales." In a world where word of mouth can go viral in seconds, social media is an essential way to brand your image. At Noxster we understand the power of social media and the impact it can have on your business.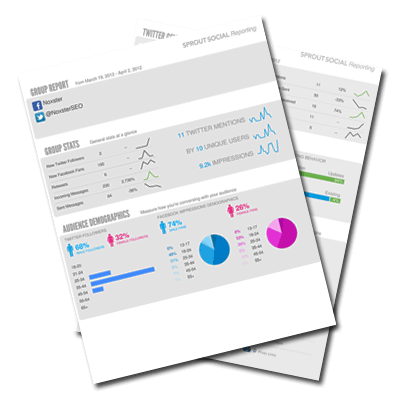 There are over a million social media users online using social media to find products, services, apparel, and new information they desire. At Noxster we connect you with thousands of potential customers looking for your business. Through our corporate social media strategy we are able to drive traffic and real people to your social media venues.  Here is a quick snippet of what we can do for you:
Social Media Strategy and Implementation
Management of Social Identity
Social Media Sentiment Monitoring and Analysis
Content Aggregation and Seeding
Build Widgets and Badges and other Social Media Tools
Facebook:
There are a variety of ways to have a successful facebook campaign. We offer many ways to help increase your facebook "Likes", Traffic, Engagement, and prospect new clients. The first step is to create a business facebook profile that helps attract fans, engaging concepts, event creation, and developing interaction with your client base. Here are some fun facts:
1 in every 9 people in the world are on facebook.
People spend 700 billion minutes per month on facebook
Each user spends 15 hrs and 33 min a month on the site
250 million people access facebook.
B2C Facebook results are 30% above average on Sundays
Fifty-six percent of consumers said they are more likely to recommend a brand to a friend after becoming a fan on Facebook.
When it comes to liking brands on Facebook, the reasons are varied, but for the most part, respondents said they "Like" a brand on Facebook because they are a customer (58%) or because they want to receive discounts and promotions (57%)
Twitter:
Twitter is the latest social media outlet to take the world by storm. Twitter has successfully changed the way people find news, interact and use a hashtag. Twitter can be best used in three forms: Community Focused, Engaging, or Transactional.  Through our Social media campaigns we can build a follower base, add industry specific follows, and drive new business. Here are some fun twitter facts:
1.6 Billion Tweets a day
They are adding 500k new users a day
Twitter's projected ad revenue in 2012 is $259 million
Tweets last up to 67 times longer for users with higher Klout scores
Thirty-four percent of marketers have generated leads using Twitter, and 20% have closed deals using Twitter
YouTube:
The holy grail for finding videos, Youtube offers exciting opportunities to drive traffic to yoursite. Whether it's posting instruction videos, marketing a new line or product, or creating a artistic master piece, video marketing is all the rage. Google actively promotes videos as part of their search results, which in return makes it easier to rank for your video. Here are some fun Youtube facts:
490 unique vistors each month
92 billion page views
Users spend 2.9 hours are spent each month on site
Google Plus:
Google + Launched mid-2011, Google released a social media outlet that will change the way people search. The concept behind Google + is it is going to be the Platform between social media and search.   The more you post and add people to your circle the better Google understands what people want to find. With our Google Plus program you can add Plus Ones, content, and marketing material that will drive your business.
Social Media Statistics:
77% percent of consumers said they interact with brands on Facebook primarily through reading posts and updates from the brands [….] 17% of respondents said they interact with brands by sharing experiences and news stories with others about the brand, and only 13% of respondents said they post updates about brands that they like.
Forty-three percent of all online consumers are social media fans or followers
The Mobile Marketing Association of Asia stated that out of the 6 billion people on the planet, 4.8 billion have a mobile phone while only 4.2 billion own a toothbrush
37% intend to make a purchase using their smartphone, nearly three times as many as those who plan to use their tablet.
Facebook, Twitter and YouTube are now considered cornerstones of most social-media strategies in larger companies. Ninety-four percent of respondents said Facebook is one of their top three social media platform priorities. Twitter was second with 77%, and YouTube trailed with 42%