¿Hablas español? Parla italiano?
Search engine optimization is the most effective way to increase your visibility as well as establish credibility and authority on the web. Having your website be found on an international level is something that can help give your company the competitive advantage. International companies will look to implement a multilingual search engine optimization strategy to perform correctly. Multilingual SEO allows for your website to be indexed in different languages and in different countries. Multilingual SEO allows your product and services to have an international reach. If you have a target market that is overseas or you are a company looking to penetrate the USA market solid multilingual SEO strategy will allow you to be found without the language barrier.
How to Make your SEO Multilingual
If you have a website and you want to go international there are four different ways to correctly optimize your URL international. Each option has it's pro and cons, but with that in mind we are analyzing it from a SEO perspective. Option 1: Subdomains with gTLDs  (Generic top-level domain) eg: de.site.com, fr.site.com, etc. Each SEO Company will offer you a different SEO service to correctly optimize your multilingual SEO campaign. In this option you are placing each language on a separate sub domain. This is a very popular SEO method. This allows your website to still associate the content with your parent website, but it gives it just enough distance to target it correctly and distinguishing it from the rest of your other websites. pros (+)
Seperation of websites
Easy to set up
Multiple server locations
Geotargeting
cons (-)
Users might not recognize geotargeting from the URL alone (is "de" the language or country?)
Option 2: ccTLDs (Country code top-level domain) eg: example.de, example.fr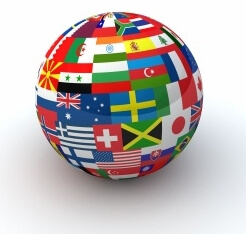 In option two it allows you having separate domains with a location extension. You will actually be able to have separate websites. pros (+)
Server isn't affected
Legal requirements (varies)
Easy separation of sites
Geo targeting is clear
cons (-)
This option is a little bit more expensive to implement
This multilingual SEO strategy gives more infrastructures.
Option 3: Subdirectories eg: site.com/de/, site.com/fr/, etc. Option three is the most popular multilingual SEO strategy. Sub directories are a great option because the content is all hosted in the same area and associated with the parent website. pros (+)
easy to set up

low maintenance
accessible to webmaster tools.
cons (-)
 users might not recognize the SEO from the URL alone
Based off of single server location
Make the separation of the sites harder to decipher
  Option 4: URL parameters eg: site.com?loc=de, ?country=france, etc. This is not a recommended SEO strategy that we recommend. This SEO URL structure is sloppy and it will not translate well to search engine optimization. pros (+)
We highly suggest you don't do it.
cons (-)
 Everything is wrong with this strategy.
Content should be offered in each language. Google provides this example for a URL that would available in both languages. Webmaster Tools for Multilingual SEO Google gives you access to webmaster tools to give you the ability to specify specific themes of content for your website. To properly geotarget your SEO campaign Google offers the following information on the topic. Webmaster Tools' gives you the ability to specify specific themes of content for your website based on the site, domain or directory. You can find out more information on the geotargeting aspect in the Google Help Center. Google offers the following information on this topic. Multilingual Website Sitemaps and Location Detections Google is also now asking that you add this information to sitemaps. Many websites choose to direct its users to an area on the website based on location. This can easily be done by uploading a php file to your website that will auto detect an IP address and serve geo-located content. Translation Services and Multilingual Content You can go about the translation in a couple of different ways. We can install a button to simply switch the language from one to another. For the best results it can be helpful if you have the material in both languages. Google recommends the following information on this: "Use robots.txt to block search engines from crawling automatically translated pages on your site. Automated translations don't always make sense and could be viewed as spam. More importantly, a poor or artificial-sounding translation can harm your site's perception."   Multilingual SEO Clients Thankfully at Noxster we have experience in all facets of search engine optimization marketing and SEO services. This unique SEO service is no different. We were successful optimizing ISG Japan in 2 languages and have brought over their financial services to the Los Angeles area. We are currently expanding their service is over 10 languages.